| | |
| --- | --- |
| | |
Certified Personal Trainer

The NCSF Personal Trainer certification is recognized around the world as a leading credential for career minded professionals. The organization operates the largest testing network in the fitness industry and our personal trainer certification is a credential of choice for many of today's leading health clubs and top practitioners. Your commitment to excellence in the field of personal training starts with the NCSF.
Want to learn the best gym training techniques and programs in order to supercharge your own routine and build yourself a better body? This course is for you too! We will go through programs, tip and tricks to help you lose fat, tone up or build lean muscle mass in the shortest time possible.
Let Tze Khit explain to you the science behind what you have been doing in the gym for years and perhaps even point out a mistake or two you have been making all along!
Top Recognition
NCSF on local renowned fitness magazine (right click -> View Image to see enlarged image)
NCSF on local renowned fitness magazine (right click -> View Image to see enlarged image)
Locally, the NCSF Certified Personal Trainer is recognized by the Personal Trainers' Association of Singapore.
Our certified personal trainers also work in all major gym & personal training establishments such as:
Gold's Gym Singapore
Fitness First
True Fitness
Celebrity Fitness
Pure Fitness
Virgin Active
Anytime Fitness
ActiveSG
Results Personal Training
F45
GymmBoxx & many more...

What Topics are Covered?


Th
e NCSF textbook cover a wide variety of content to ensure that each candidate is proficient in the many different disciplines of health promotion/fitness training and is well prepared for the NCSF Certified Personal Trainer exam.
Chapter 1 – Functional Anatomy
Chapter 2 – Biomechanics
Chapter 3 – Muscle Physiology
Chapter 4 – Endocrine System
Chapter 5 – Bioenergetics
Chapter 6 – Cardiovascular Physiology
Chapter 7 – Energy Yielding Nutrients
Chapter 8 – Non-Energy Yielding Nutrients
Chapter 9 – Nutritional Supplementation
Chapter 10 – Body Composition
Chapter 11 – Weight Management
Chapter 12 – Physical Fitness & Health
Chapter 13 – Pre-Exercise Screening & Test Considerations
Chapter 14 – Assessment of Physical Fitness
Chapter 15 – Exercise Programming Components
Chapter 16 – Flexibility Assessment & Programming
Chapter 17 – Programming for Cardiovascular Fitness
Chapter 18 – Anaerobic Training
Chapter 19 – Resistance Training Technique
Chapter 20 – Functional Training Concepts
Chapter 21 – Creating an Exercise Program
Chapter 22 – Working with Special Populations
Chapter 23 – Ethics and Professional Behavior
The Practical Workshop


This power packed & highly informative workshop has all the necessary ingredients to solidify your practical knowledge essential to your success as a personal trainer OR for you to learn techniques to improve your own training program.
Topics We Go Through:
Roles & responsibilities of a personal trainer

Safety Issues

Health & fitness assessments
Effective exercise prescription and program design for fat loss or muscle gain
Real world diet planning & food lists
Health & sports supplementation
Strength training form & techniques for all muscle groups
Cardiovascular toolbox including usage of battling ropes, prowler etc.
Usage of TRX and other popular training tools
Effective methods of stretching
Participants in action!

*BONUS! Personal Trainer Sales & Marketing Workshop @ Gold's Gym


It's awesome that you are passionate about fitness and want to help others achieve their goals.

However, in order to truly succeed as a personal trainer, you have to equip yourself with sales & marketing techniques. Perfect them and you will be on your way to build yourself a profitable personal training business.
Due to popular demand, Gold's Gym, the leaders in the personal training industry, will conduct this workshop exclusively for NCSF personal trainers.

During this workshop, you will learn:
Effective methods to market your services
How to go through a proper personal training trial session
How to effectively close your prospect
Methods to increase client retention & referrals

Other techniques to skyrocket your chances of succeeding as a personal trainer


Attendance is not compulsory for this workshop.

Learn from the best in the industry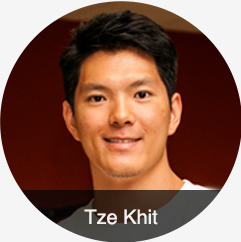 Khit with Gurmit Singh at the course
- NCSF Master Course Instructor
- Founder of Gold's Gym Singapore
- Founder of Results! Personal Training
- President of Personal Trainers' Association of Singapore
- Celebrity Personal Trainer
- Holds BSc (Exercise & Sports Science)
Tze Khit on Various Media:


For a full list of media coverage, click here.
Tze Khit started off as a freelance personal trainer after setting up
Results Personal Training
, quickly establishing his reputation as a Celebrity Trainer in the industry. In 2010, he set up
Gold's Gym Singapore
and have since grown it to become the largest personal training franchise business with more than 12 outlets in Singapore. Tze Khit is also President of the Personal Trainers' Association of Singapore.
During the fun and enriching course, Tze Khit will be teaching you everything he knows about becoming a top-notch personal trainer. His techniques are based on both intensive research as well as experience accumulated over the years. All methods are tried and tested to work to propel you towards a successful career. These methods are essential but often overlooked in other similar personal training courses.
The Exam
The Certification Exam is a 150 question multiple choice formatted examination. Each candidate will have three hours to complete the exam at our appointed centre.
The Personal Trainer Certification Exam is broken down as follows:

Functional Anatomy

15%

Exercise Physiology

10%

Physical Activity and Health Promotion

6%

Screening, Evaluation and Professional Practice

11%

Nutrition

11%

Weight Management

7%

Exercise Prescription and Programming Considerations

19%

Training Instruction

16%

Considerations for Special Populations

5%
Your Investment


| | |
| --- | --- |
| This Comprehensive Certification Program Consists of: | |
| Advanced Concepts of Personal Training Textbook (Hardcopy) | |
| Advanced Concepts of Personal Training Textbook (Digital Edition) | |
| Advanced Concepts of Personal Training Reference Guide | |
| Access to Web Portal E-Learning Resources (Including Videos) | |
| Review Quizzes | |
| Instructor Support | |
| Examination Practice Questions | |
| Intensive Practical Workshop on Techniques | |
| BONUS: Personal Trainer Sales & Marketing Workshop | |
| NCSF Personal Trainer Certification Exam | |
| Nett Price: | SGD1199 |
| EARLY BIRD SPECIAL! (ends 15/12/2019): | SGD999 |
Next COurse


Practical Workshop / Theory Exam Dates:
15
& 16 Feb
2020 (Sat & Sun)
Location: Gold's Gym Singapore


*BONUS Personal Trainer Sales & Marketing Workshop:
Dates To Be Confirmed


What are you waiting for?
Register for one of the BEST personal training certifications available in Singapore and be on your way to start an awesome fitness career!
Register Your Slot Now:


P.S.: For effective teaching, we keep class size to less than 35 per intake. The next intake is almost full. Please register early to avoid having to wait until the next course. You also have to register early to have ample time to prepare for the exam.